RATANOOGA was started in 2005 when it became clear that a need for a South African-based rat care website was rising.
It was founded on the basis of educating the masses on the proper care for pet rats which include, among many other facets of rat care, the correct nutrition, bedding and cage specifications and exercise requirements.
The internet was abound with international information on pet rats, but South Africans soon found that some medication and certain rat care items were not locally available. Thus the
RATANOOGA – A South African Rat Club website was born.
Word spread quickly and a forum was soon added as a home for rat lovers to commune to chat about their beloved pets. A place to share stories, health advice, photos and also a place of comfort and support when a dear pet crossed over to The Rainbow Bridge.
The site and forums have grown steadily over the past years and currently boasts a membership of over 300 members on the forums. RATANOOGA has been featured in the People's Post newspaper, on CCFm radio in Muizenberg and was also featured on the breakfast show Expresso on SABC3.
We also produce a RATANOOGA Calendar each year with submitted photos from our members chosen via a competition and vote on the forums. Proceeds are collected and donated to an animal charity.
RATANOOGA welcomes you and your rats to our forums and website where we hope you will find the information you need to properly care for your critters as well as make new friends who are just as passionate about rats as you are.
* * *
RATANOOGA is run by two best friends, Viia and Courtnay (aka Tails) who both currently own their own mischief of rats. Viia loves the cuddly boys where Tails prefers the active, speedy girls.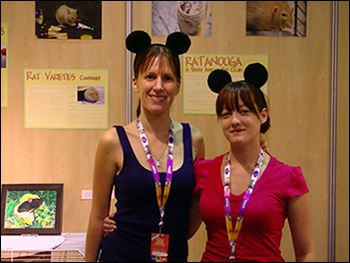 from left to right: Viia & Tails at WODAC 2010
Viia and Tails met on an international rat forum dedicated to pet rats called RatPalace and they became firm friends when they found they both loved and owned rats
and that they both coincidentally lived within 20 minutes of each other in Cape Town!
RatPalace unfortunately hung up it's html tags a year or few afterwards and thus was the first inspiration for
RATANOOGA – A South African Rat Club.
We are available for any questions you may have, though we do recommend joining our forums (it's free!), as lots of advice is dispensed there from many other rat owners and lovers.
– Tails